With only a few days to go until Valentine's Day on February 14th, The Gift Guru was informed about an excellent selection of chocolate gifts for those last minute Valentine's buys from The Chocolate Trading Company Ltd. Whether you are looking for beautifully presented gift boxes, hampers with champagne or even novelty chocolates for a bit of fun, The Chocolate Trading Company Ltd would be the best place to start.
For further saving use this voucher code:
Voucher Code
Code – Valentine8
Promotion – 8% off (Excluding Sale items)
Expires – 16-02-2011
The ancient Aztecs once worshipped chocolate now it's worshipped by million across the globe. Tantalise your taste buds and your loved one with the gift of luxurious chocolate. Chocolate is known to be a natural aphrodisiac and it releases endorphins in your brain giving you the feel good factor.
Last Minute Valentine's Chocolate Gifts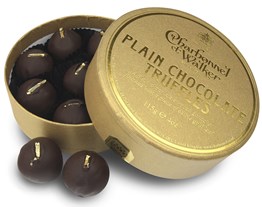 A luxury gift box of dark chocolate truffles. Plain chocolate enrobed ganache with good depth of flavour and not too sweet, finished with edible gold leaf. Presented in a rather striking, metallic gold and embossed gift box.
RRP £10.50
Our Price £9.50
Save £1.00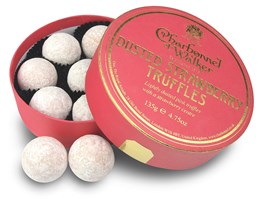 Similar to the pink Champagne truffles but replacing the Marc de Champagne truffle centre with a natural strawberry flavoured milk chocolate. These chocolate truffles are ideal for those chocoholics with a sweet tooth.
RRP £10.50
Our Price £9.50
Save £1.00
Valentines Champagne & Chocolate Hamper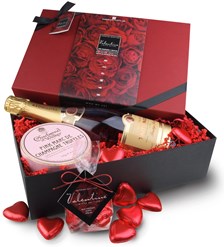 This limited Edition, Valentine's gift hamper is sure to impress with its stunning presentation and high quality contents of fine Champagne and chocolate, such as; a rather special bottle of Taittinger Prestige Rose Champagne 75cl, Charbonnel et Walker pink Champagne truffles and a gift bag of 11 red foil wrapped hearts. Beautifully finished with red rose design, satin ribbon and gift tag.
Our Price £54.95
Light and creamy, dark chocolate and Champagne truffles made with 56% smooth dark chocolate and packed with a punch. Dusted with fine cocoa powder. Another winning chocolate truffle from Booja Booja in our opinion. Organic chocolate at its finest.
RRP £9.95
Our Price £8.95
Save £1.00
Gold Foil, Milk Chocolate Hearts
Milk chocolate hearts, individually wrapped in gold foil. Smaller gold chocolate hearts also available. Ideal for table decorations, wedding favours, Valentines day, token gifts, hospitality or promotional campaigns. Sold in multiples of 100 foiled hearts.
Our Price £32.00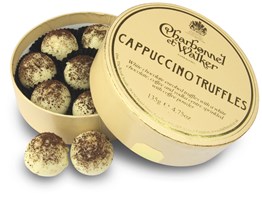 White chocolate enrobed truffles with a white chocolate, coffee and vodka centre sprinkled with coffee powder. A beautifully creamy chocolate truffle.
RRP £10.50
Our Price £9.50
Save £1.00
Superior Selection, Milk Chocolate Gift Box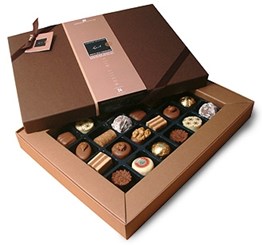 An extra special chocolate gift box containing a diverse collection of 12 different milk & white chocolates with purity of ingredients and outstanding flavours.
12 Box £13.99
24 Box £22.99
36 Box £32.99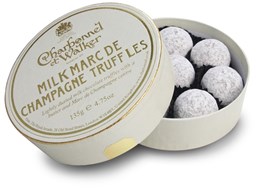 A truffle amongst truffles. Milk chocolate, not just filled but overflowing with a sensational rich chocolate ganache of butter and Marc de Champagne.
Our Price £9.50
Once Upon a Bean, Chocolate Discovery Box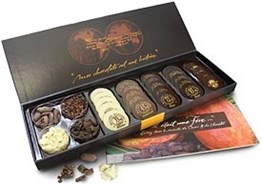 This attractive presentation box makes a superb gift for the budding chocolate connoisseur. An informative introduction and sensorial journey into the process of chocolate making, from the cocoa bean through to the finished chocolate. Examples of cocoa beans, cocoa nibs, cocoa butter and varying levels of cocoa content chocolate discs are included for tasting, along with an interesting 32 page booklet. A unique and superior quality chocolate gift.
RRP £26.50
Our Price £25.50
Save £1.00
Superior Selection, No Alcohol Chocolate Gift Box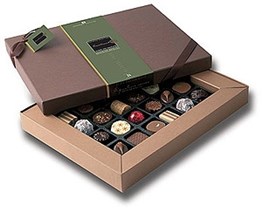 A superior selection of the finest chocolates chosen for their purity of ingredients and outstanding flavours, containing no alcohol. A truly unique collection of outstanding flavours and forms in both milk and dark chocolate, such as; salted butter caramel, croquant, coffee ganache, creme brulee, earl grey, passion fruit, single estate truffle and 22 carat gold. This special chocolate box is part of our Superior Selection range.
24 Box £22.99
36 Box £32.99